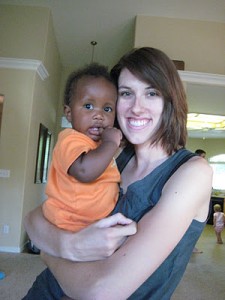 Many from the last generation seems to recall the "big reveal" in their lives; the moment they were told they had been adopted. Since then we've learned that it benefits a child to grow up always knowing this part of their story so they can't remember the "conversation"…they just always knew. Those of us with conspicuous adoptions (maybe transracial so everyone knows you are an adoptive family) don't have much choice in this matter anyway!
That's what I want for my kids, though. When they're older and someone asks, "When did you find out you were adopted?", they'll say, "I don't know." There are several ways we let them know this part of their story even now.
Books. There are some great books you can find, written for children about the topic of adoption. Two of my favorites for babies/toddlers are:
A Mother for Choco
by Keiko Kasza.This is the story of a little bird who wants to find a mother so he searches and searches for a mommy who looks just like him. When he can't find one, he comes across Mrs. Bear who does all the things a mother would do and so becomes his mommy. A great book for transracial adoptive families and all adoptive families.
I Love You Like Crazy Cakes