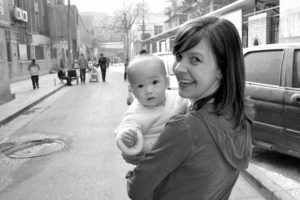 This all started with a nudge. Mark and Kelly Raudenbush completed their adoption of their daughter Lydia from China's special needs program in 2010, 3 years after they started their paperwork. Their season of waiting, wrestling with big decisions, learning, and waiting more was not unique to them. While some might say adoption is not for the faint of heart; they were convinced adoption was all about being faint of heart. Adoption turned their world inside out.
It was there that they found themselves feeling a nudge to do something, to step in and hold up other families as they pursued growing their families through adoption. The nudge gave way to an idea which gave way to a vision. One year later, they started The Sparrow Fund with the specific purpose of giving grants to families adopting internationally so that they could enroll in programs that would give them preadoption support, counsel, and medical reviews of referrals.
Soon after the start, Mark and Kelly and The Sparrow Fund's board of directors began hosting events, single-day opportunities for foster, adoptive, and waiting parents as well as professionals to come together to learn better how to do what they were called to do. Registration filled fast as The Sparrow Fund gained a reputation for worthwhile trainings that empowered parents and encouraged families. So, when a Sunday night coffee with a group of local adoptive moms concluded with a declaration that what local families really needed was support for couples, it seemed natural to grow The Sparrow Fund's programs to include what was named Together Called, a Christian faith-based weekend marriage retreat designed specifically to pour into foster and adoptive husbands and wives. In 2012, The Sparrow Fund hosted the first annual Together Called retreat which sold out fast–and has every year thereafter.
In 2014, The Sparrow Fund team grew their programs again after one anonymous donor gave a gift that was able to fund the start of our orphanage initiatives. Kelly's passion for caring for all caregivers, including those who stand in the gap for children for only a season, led to leading teams of volunteers to an orphanage in Shaanxi, China to build relationships and winsomely draw caregivers and children to more deeply experience relationships. By early 2017, trips expanded to include a new orphanage in South China as well.
2017 has proven to be a significant year for The Sparrow Fund as we completed construction on an office space with room for Mark, Kelly, and a new team member, the first official staff person, Erin Garrison, PT, DPT, serving as Family Services Coordinator. Her passion is to help equip and train the orphanage staff on developmental and handling techniques to assist in reducing delays. She also seeks to be a therapeutic resource for adoptive families as they transition children to home and get connected to the services they need.
While The Sparrow Fund is committed to growing what they offer families, they are adding another opportunity for families through a men's retreat where men can be reminded that they matter and that they can be powerful nurturers and hope-givers to their families.
That's a glimpse at the backstory and a glimpse at where we are now and where we're headed. Our efforts aren't without challenges. The world of adoption is constantly changing as is policy in China that affect our work in orphanages there. But, we're not going anywhere. Mark, Kelly, Erin, and our leadership team are all in. And, we're glad you're here too.