"When did we start believing that God wants to send us to safe places to do easy things? That faithfulness is holding the fort? That playing it safe is safe? That there is any greater privilege than sacrifice? That radical is anything but normal? Jesus didn't die to keep us safe. He died to make us dangerous. Faithfulness is not holding the fort, it's storming the gates of hell."
–Mark Batterson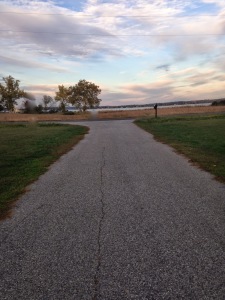 We have been home almost exactly two months. It's kind of funny how I let myself think that since some issues haven't surfaced yet—they are not going to. Not! I have seen grief this week, like never before. I was not expecting it, yet somehow I felt prepared for this moment and did not react negatively when the grief was displayed in a manner directed towards me. Emotions erupted over small issues that could have easily been mistaken for something other than grief. Thankfully the Lord has given me the discernment to see beneath the surface of these outbursts.
My response? I did not take an ounce of this personally. I let the emotions purge from a broken heart and sat, just sat (almost silent). I was determined that I would not shrink back in fear of what I was seeing. I sat for hours, watching as ugly outbursts erupted like a volcano. Words and feelings were often directed towards me, as if somehow I was responsible for the pain, yet I could see that I was just a safe place to let it all out.
This is one of those posts that well, might seem like too much information. Still, I share it because for those praying us through you can know exactly what we need and for those who are in the same place or who will be soon, it's good to be prepared for the grief.
You see as beautiful as adoption is—it is also very ugly.
In order for us to have the privilege of adoption there had to be great loss for our children. This is the part of adoption that tends to be glossed over when we talk about going across the world to become a father (and mother) to the fatherless. It all seems so wonderful and good that surely it should be easy right? They will see just how much we have done for them and wake up every day and thank us from the bottom of their hearts. Only they cannot. They cannot thank us for security when they cannot begin to understand what security is. They cannot begin to trust when their trust has been repeatedly broken.
This is the part of the journey that I had prepared for and understood fully that I would never really be able to prepare for it. I recognize that this is just the beginning. There is more to come, I am certain of it. So, what then? I can fear this grief or trust that the tears, the anger, and the hurt are the path to healing.
Pain precedes comfort. It's part of the process. It's the step where the hurt is purged making way for the comfort.
So often when hurts come we don't want comfort—what we really want is to be comfortable. There is a difference. Comfortable is the state of ease, but God does not promise us that. In fact, he offers us the opposite, "in this world you will have trouble." When we are grieving, the process of healing comes through feeling the pain. It literally hurts. Comfort comes as we are strengthened through our pain, not necessarily out of it.
So, as I sat yesterday, waiting and watching the torment of emotions purging from my child, I was helpless to remove the pain, but I could be present hoping that in some way it would offer some small comfort in that not-so-comfortable place.
Though I cannot change the circumstances, remove the hurt or even begin to fully understand the pain—at least I can be present. Having a mom to be present in the midst of hurt is something new for these little ones. It is what I have to offer. So I bring it, praying my actions will point towards my comforter—Jesus.
Grief hurts. It hurts to watch and it definitely hurts to experience.
Though I cannot fix it, I am reminded that in the moment when I love my children despite their unlovable behavior, I am the tangible evidence of God's unconditional love. What better way to teach them about the gospel? After all, unless I live out the gospel message in the day-to-day moments, it remains just a story in a book; but faith lived changes hearts.
I pray that God would strengthen me to be faithful in this journey.
_____________________________
Tiffany is a wife to Kirk and mother of eight including six biological and two newly adopted from China. With a looming financial crisis at the outset of their recent adoption, God took their family on a journey of faith. Having been home just over ten weeks, they are currently working through the transition phase of their new adoption. Tiffany writes an honest account of challenges of adoption and the redemptive work of her savior Jesus Christ at Extravagant Love. Though her faith and limits have been tested, she points that adoption is paving the way for her to grow and experience God's presence as never before.