As adoptive parents, we all know this day is coming.
That day where your child starts asking questions that you can't answer. The thought of it breaks your heart, and so you try to prepare yourself, but you can never really be prepared.
Somehow these conversations always happen when I am putting on my makeup in the morning. Captive audience, I guess!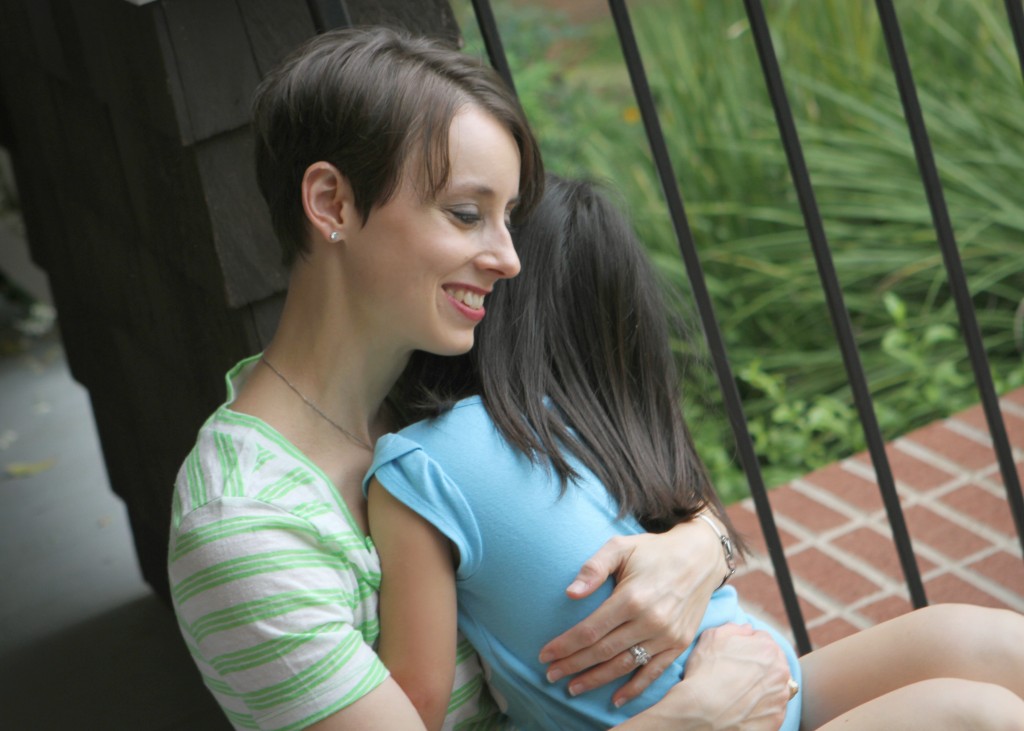 Grace: "Mommy, when are you going to have a baby in your tummy?"
Me: "Well, baby, I don't know. Only God knows if that will ever happen."
Grace: "I was a baby in your tummy." (she said this directly and without question)
And there it is; the question I knew would come, heading straight for me like a freight train.
Me: "Sweetheart, you may not have grown in my tummy, but you grew in my heart.
Grace: "Well, whose tummy was I in, Mommy?"
Silence. Deep breaths.
Will it be enough for now, Lord?
"Peace, Child, be still and know that I am God."  
Me: "Sweetheart, we don't know, but you were always in my heart."
Grace: "Ok, Mommy!" (she hugged me and ran off her usual happy self)
For now, as an almost four year old, that is all she needs to hear, but I know a day is coming when she will not be satisfied with that statement of truth. That is OK and natural, but won't make it any less hard. I hate that I won't have more information for her. I hate that it will hurt her and could possibly rock her to the very core. But I must have faith because I know that God will be with her on this journey, guiding her, loving her and protecting her. My job is to teach her about Christ and His Sacrifice and how her worth and significance comes only from Him!
As I look at our recently adopted older Chinese son, Anthony, who has told us that his first mommy as he calls her (he is referring to his birth mother) was bad because she threw him in the trash, all I can do is pray to the One who heals all hurts, knowing that only He can give Anthony the strength and ability to forgive.
Naturally, as their mother, it  breaks my heart to see my children suffer, just as it broke God's heart to watch His only Son die on the cross, taking our sin upon Himself. And yet, God allowed it, because it was the only way we could spend eternity forever with Him. Praise God for His amazing mercy and grace.
Thank you, Father, for your steadfast love. You are our rock and our salvation. Whom shall I fear?!
_________________________________________
After struggling with infertility for 5 years, God led Suzanne and her husband Adam to His Plan A for their lives—adoption! Their daughter, Grace Lihua, came into their lives on May 8, 2011 (Mother's Day) from Fuzhou City, Fujian Province, China. And, their son, Anthony Jianyou, joined their family on January 14, 2013 from Shanghai. After a career in politics, Suzanne is thankful for God's provision in their lives that now allows her to work part time as a Pilates instructor while home schooling their children and working as a part of the WAGI leadership team. You can follow their adoption journey and life on their blog, Surpassing Greatness.