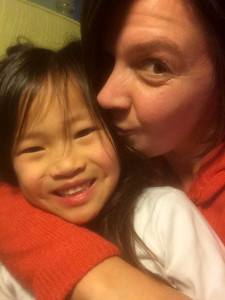 There's something pretty cool about us. You and I look pretty different. You've got dimples; I've only got wrinkles. You have a freckle on your tummy; the only fun thing I have on my tummy is a turtle tattoo. You've got long dark hair; I've got short brown hair with highlights of gray. You've got Chinese eyes that look like crescent moons; I've got big eyes that scrunch up when I look at you because you always make me smile. I like that we're different. We go perfectly together, and our differences make us a really colorful and fun pair.
Some people assume that pairs are the same. They think pairs should match on the outside as well as on the inside. So, the fact that we're different on the outside may make some people not know right away that we go together. They might do things like that man did last week and ask you where your mommy is when I'm standing right next to you. We might laugh when that happens, but sometimes, we won't. And, that's okay.
People may ask you other questions too. I expect they will because I've been asked lots and lots of questions since you became my daughter. Sometimes the questions are easy ones, and I can answer them right away without even thinking really. Other questions make me feel a little funny inside, and I have to think before I answer. And, sometimes, there are questions that make me feel a little sad or mad, and I just don't want to answer at all. I imagine you might feel like that too. We may be different, but I bet we might feel a lot the same.
When people ask you questions or say things to you about us being different, it may be because they're being mean. It's true. Sometimes people are just mean for reasons I really don't understand. But, you know what? I bet that most of the time, people will ask you questions not because they are trying to be mean at all. Maybe they are interested in the fact that we're different because they want to have a family that looks different too. I like when that happens. Maybe they ask a question because their family already looks different, and they want to know if we're like them. Those can be fun conversations too. Some may ask simply because they are curious, and that's okay. We ask people questions when we're curious too.
The thing is, we may think we can tell why people do the things we do, but a lot of times we really can't. People's hearts are pretty mysterious things, you know? But, regardless of what's in their hearts and if they are curious, interested, or just plain mean, we need to respond with respect. Let me explain to you what I mean. When someone asks you a question, you have a choice to make. You can share something about your story—after all, you're an amazing girl with an amazing story. You can respectfully answer their question and tell them something about yourself. Or, you can share something that's not about you specifically but is about families like ours that look different from each other. That's another good option that may be a little easier because it's not as personal as sharing about yourself. Or, you can respond in another way entirely and not respond at all. That's a perfectly fine option, and you don't need my permission in advance to choose that one. I'm telling you right now that it's fine with me. But, if you choose that option, know that you need to do it always with respect. You can tell them you don't really like the question or ask if you can talk about something else. You can tell them they're your friend but you'd rather not answer that question. You can even blame me if you want and tell them your mom told you not to talk about that. Don't worry; I can take it. I'm your mom, and moms are cool like that.
I'm not expecting you to have some sort of issue tomorrow or even next week; so, you don't need to worry. But, if you do—whenever you do—know you aren't stuck; you have a choice to make. You're the one in charge of how things go. And, know that even if I'm not there to help you, I'm cheering you on just like how you cheer me on when I wrestle with the kids in the living room and you yell, "Go Mommy! Go Mommy!" And, I wanna hear all about it afterwards so I can scrunch up my eyes again and smile real big at you because no matter what choice you make and how things go, I'm going to tell you I'm proud of you and that I love that we're different and that I really, really love that you're mine and I'm yours. I hope on those days that I need it, you can do the same thing for me because you're my daughter; and daughters are cool like that.
____________________________________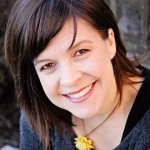 Kelly has a passion for supporting adoptive families, specifically to encourage parents to be intentional and understand their own hearts more clearly as they seek to care for their hearts of their children. Kelly has a Master's degree in counseling and has been working with adoptive families since she and her husband Mark founded the The Sparrow Fund. Married to Mark since 1998, they have 3 biological children and 1 daughter who was adopted as a toddler from China in 2010. You can learn more about their adoption story, how they've been changed by the experience of adoption, and what life for them looks like on Kelly's personal blog, My Overthinking.