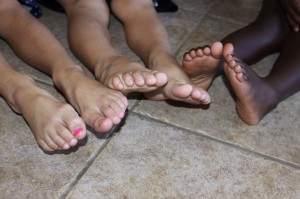 I love little bare feet.
Our youngest son William has been home from Ethiopia for six months now, and he continues to make great strides in his attachment process. A while back I posted Sweet Little Breakthrough about how he had started doing little things that seem like no big deal with our bio kids, but mean the world with kiddos who have been adopted at an older age (holding my hand without protest, for instance). In that same vein, the picture above represents so much more than than cute little piggy toes (and chipped nail polish).
When William came home, one of the first things we noticed was that he was obsessed with being fully dressed. First thing in the morning he would go into his closet, pick out his clothes, and get dressed all the way down to his socks and shoes. It was adorable.
It was also an institutional behavior.
I don