I have told both of my boys thier adoption stories since they were newborns in my arms.  It's not easy to put into words the miraculous and complicated way God brought them into our lives, but I've always felt like it was good practice for me even if they have no clue what I'm saying.  The way they became part of our family is precious and I don't ever want to forget those stories that made me a mama.
Right now, it's pretty much a one-sided conversation.  My oldest is starting to make some straight-forward connections like…
"L is my birthmommy."
"I grew in her tummy"
"She picked you and daddy to be my parents."
Then there are moments when I can see it in his eyes.  His little brain is just spinning trying to figure out his story.
That's when a little bit of fear sets in.  I realize that there will probably come a day when there will be hard questions to answer and upset or confused emotions that come out of my boys.  In my humanness, I want to protect them.  I don't ever want them to doubt our love for them or their birthfamilies love for them.
Then my loving, heavenly Father whispers to me and says, "Abby, don't you remember how I used some really difficult situations in your life to draw you closer to me?  I want to do that for your boys too."
So, yes.  It will be hard.  There will be emotions that may be difficult to deal with.  I won't have all the answers for my boys, but I have the priviledge of pointing them to The One who is control of all things and has EVERYTHING they need.
"And my God will meet all you needs according to his glorious riches in Christ Jesus."  Philippians 4:19

_________________________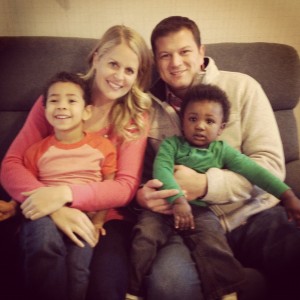 Abby and her college sweetheart husband Wes began the journey of domestic adoption in 2009. Blessed with a (more than they had planned but oh so thankful for it) open adoption experience, they were able to witness the birth of their first child Max in the summer of 2010. Little brother Sam joined their team in September of 2012. Wes and Abby are trusting God as he leads them in their relationship with their sons' birth families. You can follow their story at Akers of Love.