Monthly Archives:
April 2012
I love dark chocolate covered raspberries. I love the slight bitterness of dark chocolate mixed with the sweetness of fruit. I love the magic of dark chocolate and raspberries melting in my mouth.
I love refridgerated homemade chocolate chip cookie dough. I love the chips and the smooth creaminess of the dough. I love the ridiculously large amounts of sugar and butter. I love the magic of spoonful after spoonful melting in my mouth.
If you gave me a choice between the two, I would pick both. If I really really had to, put a gun to my head, pick one, I would five times out of 10 pick cookie dough and five times out of 10 pick the dark chocolate covered raspberries.
If you told me I could never have cookie dough again, and my dessert for the rest of my life was solely going to be dark chocolate covered raspberries, I would love it. I certainly wouldn"t care much. However, there would be times I would think, boy cookie dough sounds good right now.
Or, while I love my dark chocolate covered raspberries, I would like just a taste of the cookie dough. And then if you said no, absolutely not, no cookie dough. Then I would be fine. And in fact, I would rejoice in the fact that I get to have my dark chocolate covered raspberries. Because I love them.
Can anyone see where this is going?
Can you figure out the analogy?
If you can, let me know because you are awesome and have figured out what"s in my head and that"s freaky.
I love adoption and I think we"ve esablished that I would like to adopt a million kids. I love my girls more than anything on this planet (other than my hubs). As I snuggled with Hannah tonight in her bed and stared at her sweet little hand resting on her tummy and her adorable skinny legs propped up on the duvet, I felt such an amazing and overwhelming feeling of love for this girl (let"s not leave Olivia out, I love her too:)). I love these girls so much, in fact, that sometimes I"m amazed that people love their biological children. I"m serious.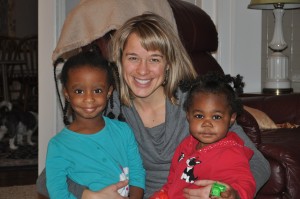 And I would still like to be pregnant. I don"t necessarily want to reproduce my DNA. In fact, I kind of don"t want to because (just thinking ahead), if s/he would look anything like me, I really would cringe every single time someone would say that "s/he looks just like you" in front of my girls. Who will never hear that. But I want to experience pregnancy. And I want to give birth. If I could could give birth to an adopted baby, that would be perfect (we"ve already discussed embryo adoption, that"s off the table for us for now (but never say never, right?)).
Anyway, adoption has not squelched the desire to do what my body was created to do. I still track things. I still know where I am in my cycle. I still care. I still get jealous. I still sin.
But, if what I get for the rest of my life is dark chocolate covered raspberries and no chocolate chip cookie dough, I rejoice for the Lord"s plan for my life and I will fully, with all my being, embrace eating my dark chocolate covered raspberries. Because I love them
________________________________________
Abby is a stay-at-home mom, married to her college sweetheart Matt. Matt is an elementary school teacher, a coach, driver"s ed instructor, tutor, and sports fanatic. Abby just tries to keep up with him and the two little ones they adopted domestically (15 months apart). They are right in the middle of their third adoption journey and are excited to see how God adds to their family.  Abby welcomes you to follow along at Our Little Hope.
Attachment is such a difficult thing to comprehend.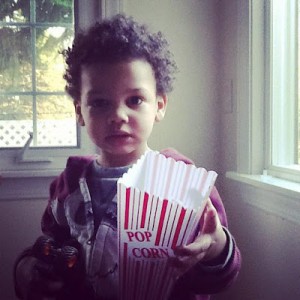 oh my darlin',
you seriously put me through the ringer today.
you made me question everything i thought i knew about parenting.
you are one determined boy, and i know that will serve you well later in life,
that you will accomplish great things because you do not give up.
like with the easter candy, for example.
by golly, you wanted that chocolate bunny, and that chocolate bunny you were gonna get.
you have this uncanny sense of hearing… you announce every passing motorcycle,
the arrival of every garbage and delivery truck, an airplane flying overhead.
none of it is by sight, all by sound.
and yet. i can tell you 412 times to come to me, to stop climbing or jumping or running
and it is as though i haven't uttered a single syllable.
but in spite of all of your crazy antics,
you have an unfathomable capacity to love.
you want to snuggle every night before bed, and first thing every morning.
you nestle into "mama's bed" (it's daddy's, too, just so you know), rest your head right next to mine and are quiet and still and content.
i look at you in wonder, my heart full and achy,
and very aware of this precious time.
i'm not ignorant to the fact that someday… maybe soon… you will understand you're adopted.
there may be a day when you question if we're as close as we'd be if i'd had you myself.
if i could, i would take all those questions away in a heartbeat.
i'd tell you that i can't imagine loving anyone more than i love you,
that our lives would have a gaping hole without you in it,
that tears well and overflow at the thought of you ever experiencing any heartache
from the undeserved gift we've been given of calling you ours.
i look at you in those quiet moments and i drink it in.
your tender heart and your boundless love.
i pray almost every day that you will know in the depth of your being that you are more than we could've ever hoped for,
that you will be confident in our love for you, and even more,
in God's love for you.
you are a most precious gift, my sweet, wild Eddie.
i hope you will know that in your heart every day, forever.
yours always,
mama
________________________________________
We are a family of 5 1/2: 3 kids – 2 biological, 1 adopted, and waiting to be chosen for our next adopted baby. Adoption has always been on our hearts, hopeful that it'd be part of our story. We're so blessed to say that it is, and has changed us forever. We love our three boys more than we'd imagined possible and can't wait to see what is in store for the future!