This is a question I get all the time. "Everything sounds great, but how are you really doing?!" So today, right now, I'm going to spare you the "oh, good – we're doing really good" answer, and give you the real deal. Raw and unabridged.
Because the truth is, we are doing good. Really good. But there is so, so much more to it than that.
The last 2+ months have been hard. They've been messy. They've been exhausting. They've been confusing. Any new mommy & daddy would say the same thing – newborn or otherwise. But bringing a 3 year old into a brand new family is different. Not harder or easier – just different. Carter came with an established personality – a muddy past – and an attachment to….well – no one, really.
I think I was naive to think that after we got home, if we just got that boy some love and some healthy food that we'd be on the road to success. In part, this is true.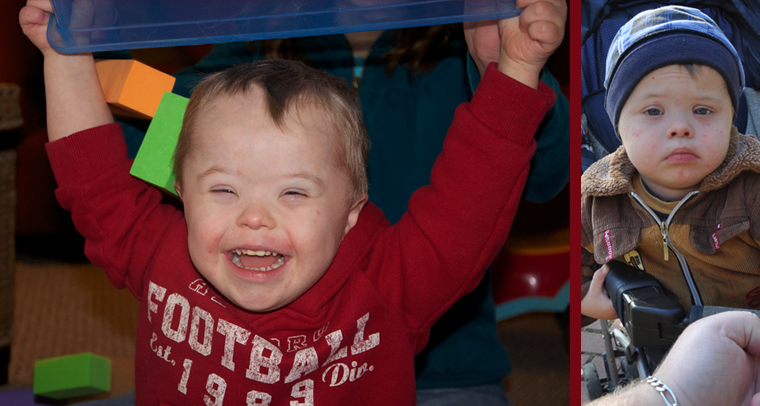 Huge difference, right?!
We have seen the difference that a little lovin' makes – and it's huge. Monumental. But this 3 year old boy needs more than a little love and veggies.
Like discipline. How do you discipline someone you're trying desperately to attach to? Very carefully. Being a preschool teacher for 7 years – I have all they keys to unlock the mysterious mind of a difficult preschooler. I know just what to say and just how to handle the most out-of-control child. And on top of that, they would love me in return. But Carter is different. He is fragile. Don't let his healthy figure and cute smile fool you. He is fragile. He is trying to explore his world. His new world. He is working out, in his mind, all the exciting – intriguing – incredible things around him. And when I see his mind working, and the gears are turning – it's hard for me to step in and say 'NO!'. I do say no-no. Often. But each time, I wonder if that's really what's best. I know – he needs to learn discipline – and he does understand no-no. But this kid is just walking around, enjoying life. Totally sucking the marrow out of it. And we're telling him 'no-no'.
Sometimes, Carter gets a gentle hand tap. Enter, Christmas tree (so stinkin' glad it's gone!). And I know he needs that little slap, but as I'm doing it, I can't help but wonder who has done it in the past. Not on his hands – but on his face, head, back…? And again, I wonder if that's really what's best.
See what I mean? Messy.
We are go-ers. Always on the go. It's our nature. Being-doing-seeing-going is in our blood, somehow. But as a family who just brought home a 3 year old, 'going' should not be part of our daily activities. In fact – instead of being-doing-seeing-going, we should be sitting-listening-quieting-holding. It's easier said than done, trust us. After spending 30+ days in a tiny apartment in Ukraine, we were ready to hit the ground running the day we got home. And we couldn't. Then, after a week of staying home – we were ready to get back to our old being-doing-seeing-going ways. A tip to those of you about to embark on this incredible journey: When you think your child is ready for xyz, wait another week. When you think you're ready for xyz, wait another 2 weeks. Once you let that person snuggle your baby, or you start running errands with your child, or whatever – it's really, really hard to get it back. It's nearly impossible to go back and say 'you're snuggling too much' or to tell yourself 'the errands can wait until later' – because it's already been done – so what can the harm be in doing it more?!
See what I mean? Exhausting. Confusing. This is the reality of adoption. I don't ever want to make this journey look easy. It's not.
That's not to say that it's not good. That it's not incredible. Amazing. Rewarding. Because of course, it is all of those things. But it's not easy.
So, as I'm sitting here enjoying my coffee – rambling on about attachment….my sweet boy is laughing big belly laughs in his highchair, enjoying the last bits of breakfast. Please, don't misunderstand. We are so abundantly blessed. Incredibly happy. But don't think for a second that this is a piece of cake.
It's tough stuff – this adoption journey. But so, so worth it.
________________________________________
I'm a daughter of the Most High God – wife to the most incredible, Godly man I know – and, as of two months ago, a proud mama to a 3 year old boy with Down syndrome. When Jake & I married 5 years ago, we planned on chasing after the typical American Dream. We're so grateful that God got a hold of us – shook us up a bit – and then spoke to us, loud & clear. I'm learning to step back, say 'yes' to God, and allow Him to pen our life story. I enjoy writing about our life – our son – parenting a child with special needs – adoption – and other random tidbits on our family blog.
________________________________________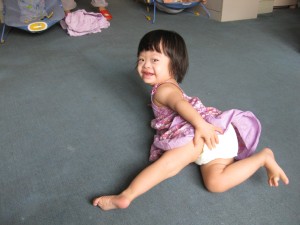 Are you interested in becoming a family for a little one with Down Syndrome? This little girl is hoping her family finds her soon. Email to be connected with the adoption agency who has her file.